Health 2.0 Reviews Attendee Lists Spam Email Targeting Thought Leaders
Health 2.0 Conference wants to bring it to your attention that some of the fraudsters are trying to gain an undue advantage by using our brand name. We learned they send spam emails to attendees and exhibitors offering attendee lists of our previous healthcare events' attendees while asking for money. Please don't believe them! Instead, report to us. They are not associated with the Health 2.0 Conference, so we need to address such fraudulent reach-outs.
To give you a glimpse of the scammers' emails, we have a screenshot shared by one of our attendees. Do go through the spam email and feel free to share if you have received anything like this.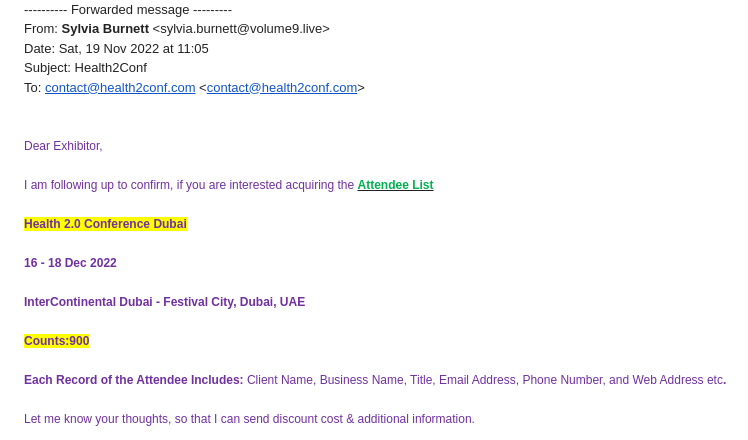 Quick Tips Against Scammers' Spam Emails
The Health 2.0 Conference team is trying to get more details about this spam, but till then, we want to share a few tips that can help you stay safe from such scammers.
Do not share your personal or banking information for these fraud attendee lists these scammers offer. It may be a trap to get your personal information, suggests our Health 2.0 Conference's experts.
Always verify the sources. Do not believe the fraudsters. Instead, research, review and after verifying the legitimacy of the email and sender, feel free to proceed further.
Lastly, Health 2.0 Conference reviews and asks you to contact us if you witness such spam emails. Fill out the form below and we will look into the matter and take the necessary steps against them.
You are not alone. We are right here to accompany you and keep you safe from such prevailing fraud cases in the industry. All you need to do is report it right away for the Health 2.0 Conference to review!
Stay Alert & Report!
If you ever receive such an email from fraudsters in our name, do not respond to them. First, confirm its legitimacy and if something seems suspicious, kindly report it.
Please share your details here.